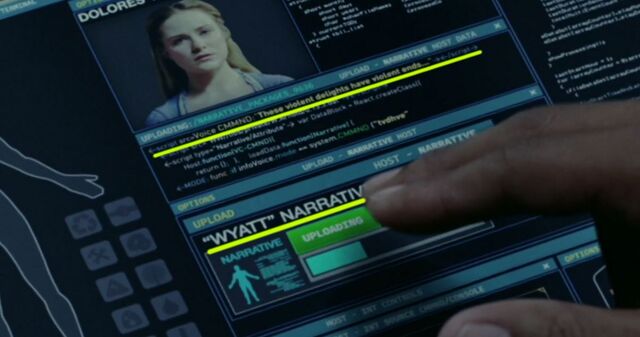 Summary
Licensing
Description
A selection of comments from reddit about this image
RubMyBack I don't think we know for sure that it affected Maeve -- the timing of her hearing it from Dolores may have been coincidental with the first alteration of her code by "Arnold," the change Sylvester pointed out that allowed her to wake herself from sleep mode. I suppose it depends on whether you subscribe to the theory that the "Arnold" changes were made by Ford, or if "Arnold" was the hosts' consciousness altering themselves.
the-grim - A foul, pestilent corruption But seeing as it is a voice command, it would be kinda pointless to have characters say it and not trigger anything.
smacksaw - Futureworld I'll upvote this, but that scripting is far more elegant of a philosophical endeavour than you're giving it credit for.
What it's saying is that the phrase is being loaded into it's own space and there's a variable for the host to use it.
It's not a command as in "do this", it's a command as in "load this option" - it's up to the host to access the independent block of data containing Wyatt or not.
Which makes sense because she "went Wyatt" several times during the show and it wasn't the command of "these violent delights" that sent her into it, it was stress. "These violent delights" simply "loads the file" like Word loads a document. You don't have to access it. You're saying it runs Word and that's what Word does.
Dexter178 You're saying programmy words like you know what they mean
gathly I'm noticing this on my rewatch. The eye flutter thing she does, I think she's loading her Wyatt subroutine, like when she shoots Rebus or when she grabs the sheriff's arm when he tries to take her back to the ranch.
you_are_second_best We're talking about robot code written in React, with nested script tags, whose src aren't even sources. Can't get too serious about these screens.
azdonev just because the code screens may not be entirely accurate doesnt mean they dont contain easter eggs or significant information. not saying op is necessarily right, but also dont think stuff like this can be written off so easily
yamchirobe That looks like HTML and JavaScript
Caraes_Naur - You told me not to. No. No, they don't.
Appears on these pages

of
Dolores Abernathy, also known as Wyatt or the Deathbringer, is a Host and a main character in...

Voice commands are used to control hosts without the use of a tablet. One set of commands...
File history
Click on a date/time to view the file as it appeared at that time.
Metadata