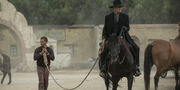 On his journey, the Man in Black halts a hanging proceedings for Lawrence by killing all the men in the area. He greets his old acquaintance, who has no recollection of ever meeting him before. He uses Lawrence's bonds to tie him to the horse and he's dragged away to the town where he originated from. In order to learn more about the maze in the deepest part of the Westworld game, the Man in Black threatens Lawrence's family. He quickly shoots down all the host attackers, who are unable to kill him and then kills Lawrence's Wife to add to the persuasion. Eventually, the gunslinger receives what seems to be a message via Lawrence's Daughter (the host is not in character when she delivers the message), which provides him with information on how he can reach the maze. Taking Lawrence with him, he departs from the town.[1]
Ad blocker interference detected!
Wikia is a free-to-use site that makes money from advertising. We have a modified experience for viewers using ad blockers

Wikia is not accessible if you've made further modifications. Remove the custom ad blocker rule(s) and the page will load as expected.