The Second Season of Westworld has been confirmed and will premiere in the spring of 2018.[2]
"
If the first season was defined by control, the second season is defined by chaos, That's part of what we come to understand Ford has been planning all along.

Ford has set in motion what he thinks is a plan. The nature of that plan is something we explore in the second season – what his intentions are. Are they to let Dolores or the other Hosts escape? Are they simply to teach the human guests a lesson?

"

–Jonathan Nolan

Season 2 of Westworld has been confirmed. Casey Bloys, President of HBO's programming, says that season 2 will be "exciting, mysterious and as fun as season 1. And completely original, as well."[3]
Things We Know
Edit
Characters and Cast
Edit
Confirmed for Season Two: (alphabetical order)
Other Stuff
Edit
The season will have ten episodes.[1]
Lisa Joy will make her directorial debut with the fourth episode of the season, which is co-written by Jonathan Nolan[18].
There will be "a lot of flies"
"
Well, the flies were always the canary in the coal mine of where the story was going, because they were the one not-programmed creature in the park. So that tiny little slap that Dolores did at the beginning of the season was a harbinger of things to come. Now, in Season 2, now that the gloves are off, we're gonna see a lot of flies — and they're not necessarily gonna be actual flies.
"
Some of Season Two, "before the mayhem starts",[19] will be spent looking at how the experience would feel for a contemporary guest going into the park.
Picked up at PaleyFest 2017:
"
Last we saw everyone, the hosts had risen up to attack the humans. But I'm not so sure we're actually going to see the full slaughter — at least not right away. "You're definitely going to see the aftermath and the effects of what happened," Lisa Joy tells me, to which Jonathan Nolan adds: "We are definitely not picking up right where we left off."[20]
"

–From Entertainment Weekly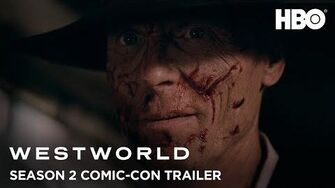 Behind the Scenes
Edit
This gallery is generated automatically from the Categories "Images from Season Two" and "Images from behind the scenes". Images that are in both of these two categories appear in the gallery after a short time.
References
Edit
↑ 1.0 1.1 1.2 http://io9.gizmodo.com/ed-harris-is-back-for-westworld-season-two-which-raise-1789162119 Ed Haris, BBC Radio interview
↑ 4.0 4.1 4.2 http://deadline.com/2017/08/westworld-gustaf-skarsgard-fares-fares-cast-regulars-season-2-betty-gabriel-recur-hbo-series-1202146004/
↑ https://www.geekman.ca/single-post/2017/7/25/lets-gratuitously-overanalyze-the-westworld-season-2-trailer
↑ http://www.digitalspy.com/tv/westworld/news/a838221/westworld-season-2-casts-lost-hiroyuki-sanada-samurai-world/
↑ http://www.digitalspy.com/tv/westworld/news/a833938/westworld-season-2-jimmi-simpson-young-william/
↑ http://deadline.com/2017/03/westworld-louis-herthum-promoted-series-regular-season-2-hbo-1202052806/
↑ http://ew.com/tv/2017/07/21/westworld-jonathan-tucker-season-2/?utm_campaign=entertainmentweekly&utm_source=twitter.com&utm_medium=social&xid=entertainment-weekly_socialflow_twitter
↑ http://deadline.com/2017/03/westworld-talulah-riley-promoted-series-regular-season-2-angela-hbo-1202049050/
↑ http://westworldwatchers.com/2017/07/23/tessa-thompson-confirms-return-westworld-season-2-new-interview/
↑

SDCC Season 2 Trailer
Ad blocker interference detected!
Wikia is a free-to-use site that makes money from advertising. We have a modified experience for viewers using ad blockers

Wikia is not accessible if you've made further modifications. Remove the custom ad blocker rule(s) and the page will load as expected.